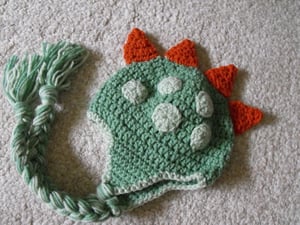 $

25.00
THIS IS CURRENTLY AN ITEM THAT IS CUSTOM MADE TO ORDER SPECIFICALLY IN YOUR SIZE - TURN-AROUND TIME IS APPROXIMATELY 7-10 DAYS.
The light green dragon/dinosaur hat with rust spikes will make your little one seriously fierce. Made of acrylic, wool and bamboo yarn. Long braids complete the design. Super cute.
Please specify when ordering whether you want a dark green or light green base.
Dark green will have light green spots and rust spikes.
Light green will have dark green spots and rust spikes.
If you do not specify your preference, you will receive the dark green with light green spots and rust spikes.
Shipping is $3.50 for first item; $1.00 for each additional hat item.
**************************************************
Sizing is as follows:
Newborn-3 months: (14-15" circumference x 6" height)
3-6 months - (15-17" circumference x 6.5-7" height)
6-12 months - (17-19" circumference x 7.5" height)
Children 1-3 years (18-20" circumference x 8" height)
Children 4-10 (19-21" circumference x 8.5 height)
Pre-Teen to Teen - (20.5-22" circumference x 9-10" height)
Adult Female - (21.5-22.5" circumference x 11" height)
Adult Male - (23-24" circumference x 11.5 height)
Colors might vary slightly due to dye lot & individual's computer monitor output.