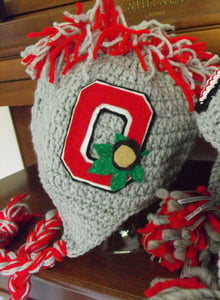 $

28.00
THIS IS CURRENTLY AN ITEM THAT IS CUSTOM MADE TO ORDER SPECIFICALLY IN YOUR SIZE - TURN-AROUND TIME IS APPROXIMATELY 7-10 DAYS.
Take a walk on the wild side...support your favorite college team by wearing this scarlet and grey mohawk-inspired hat. The handmade felt Block O applique is on one side of the hat. Matching scarlet and grey braids complete the hat's design.
This hat comes in ALL SIZES and many other sports teams!
Many color combinations are possible:
Red
Grey
Black
Hat will be made in Grey unless otherwise stated.
If you are looking for other Ohio State hats, please check out the "Helmet Hat". Click here:
Sizing is as follows:
Newborn-3 months: (14-15" circumference x 6" height)
3-6 months - (15-17" circumference x 6.5-7" height)
6-12 months - (17-19" circumference x 7.5" height)
Children 1-3 years (18-20" circumference x 8" height)
Children 4-10 (19-21" circumference x 8.5 height)
Pre-Teen to Teen - (20.5-22" circumference x 9-10" height)
Adult Female - (21.5-22.5" circumference x 11" height)
Adult Male - (23-24" circumference x 11.5 height)
Shipping is $3.00 for first item; $1.00 for each additional hat item.
Colors might vary slightly due to dye lot & individual's computer monitor output.