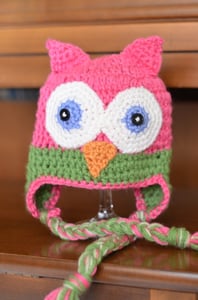 $

29.00
Whoooo doesn't love owls? And, what better way to show your love than a hand-crocheted owl hat? This gorgeous owl is berry-licious (purple) on top and lime green on the bottom. The ear flaps are also lime green. Braided ties are a combination of lime, orange and berry. A pink flower sits in front of the owl's ears.
This precious little owl hat is made with a combination of yarns which include: 100% Peruvian wool yarn, acrylic yarn and cotton yarn.
SELECT YOUR OWN COLORS! Don't be afraid to ask about different colors! I can make this hat in just about any color combination you want!
Shipping is $3.50 for first item; $1.00 for each additional hat item.
***************************************************
Colors might vary slightly due to dye lot & individual's computer monitor output.
If you need this hat in another size or colors please send me a message & I'll be happy to custom make it for you.
Prices are as follows:
newborn to 3 months - $26
3 months to 6 months - $27
6 months to 12 months - $28
1-3 years - $29
4-10 years - $30
Pre-Teen to Teen - $31
Adult - $32
Care instructions: Hand wash in cold water & lay flat to dry.
I used this pattern for the majority of the hat; however, I used my own pattern for the owl's ears. The pattern was purchased from Angel's Chest Etsy shop. She has great patterns! This is the link to her shop. http://www.etsy.com/shop/angelschest
Have any questions? Contact the shop owner.