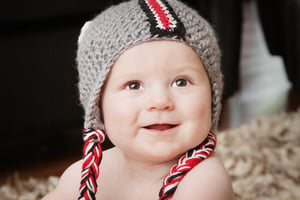 $

30.00
THIS IS CURRENTLY AN ITEM THAT IS CUSTOM MADE TO ORDER SPECIFICALLY IN YOUR SIZE - TURN-AROUND TIME IS APPROXIMATELY 7- 10 DAYS.
Take a look at this popular scarlet and grey helmet hat with decals!!!!!
Let your future Hall of Fame player sport the scarlet & grey. This helmet hat comes in ALL SIZES!
The hat is an earflap hat with braided ends. Decals are on one side of the hat...they have to be earned, you know!
Sizing is as follows:
Newborn-3 months: (14-15" circumference x 6" height)
3-6 months - (15-17" circumference x 6.5-7" height)
6-12 months - (17-19" circumference x 7.5" height)
Children 1-3 years (18-20" circumference x 8" height)
Children 4-10 (19-21" circumference x 8.5 height)
Pre-Teen to Teen - (20.5-22" circumference x 9-10" height)
Adult Female - (21.5-22.5" circumference x 11" height)
Adult Male - (23-24" circumference x 11.5 height)
Shipping is $3.50 for first item; $1.00 for each additional hat item.
Colors might vary slightly due to dye lot & individual's computer monitor output.